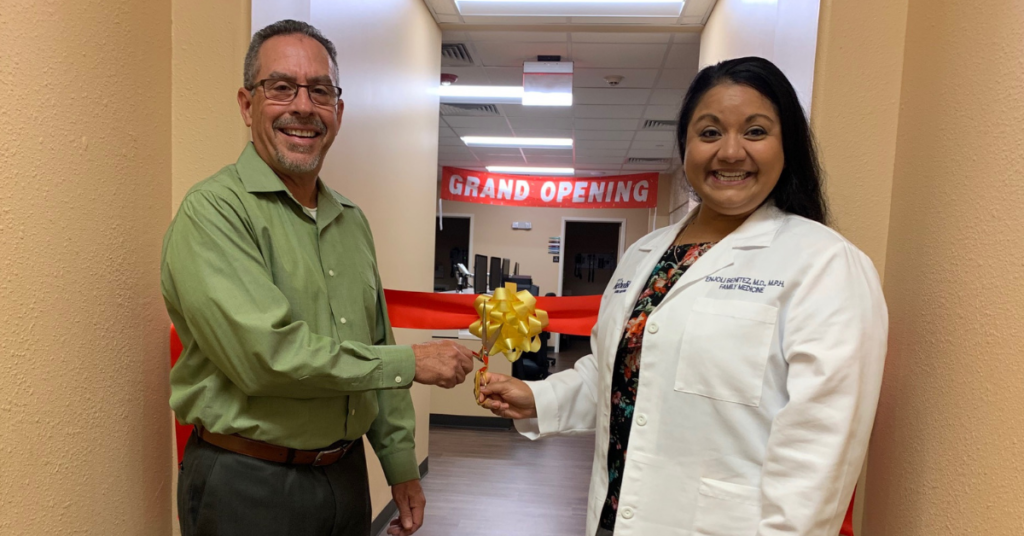 A community health center is much more than just a group of physician's offices housed under one roof. It is a healthcare home and a gateway for working families to get the full range of services they need to thrive. The new expansion of Vecino's Denver Harbor Family Clinic gives more families in Houston access to this type of integrated healthcare.
Enlarged facility to serve 2,000 more patients
The $2.2 million expansion opened on August 28th. It includes seven new medical exam rooms, a new procedure room, expanded counseling offices and a group meeting space. The project allows Vecino to see an additional two thousand patients each year and increases capacity for counseling services and specialty care.
"This expansion allows us to provide effective, efficient healthcare to even more families," says Vecino CEO Daniel Montez. "We are so grateful to all our foundation and individual donors. Their support over the last 20 years makes this growth possible."
A more seamless experience for patients
Integrating behavioral health care services into primary care was a major focus of the project. All of Vecino's counseling staff are now located together in an expanded and centrally located office space, with the goal of giving patients a more seamless experience as they move between primary care, specialty care, and behavioral health services.
"Patients at Vecino tend to know and trust their primary care physicians, but navigating the larger system to see a specialist or counselor can be daunting," says Vecino's chief medical officer Dr. Enjoli Benitez. "We want patients to view behavioral health services as just another part of the primary care experience. This expansion brings us much closer to that goal."
Focus on quality health care for the whole family
Denver Harbor Family Clinic is proud to be the permanent home of Houston Methodist's Family Medicine Residency program. That partnership helps ensure that high standards are care are maintained as the clinic grows.
As a neighborhood health center, Vecino currently provides healthcare services to more than 11,000 Houstonians each year. The organization operates both Denver Harbor Family Clinic and Airline Children's Clinic in Northeast Houston.