Vecino celebrating National Health Center Week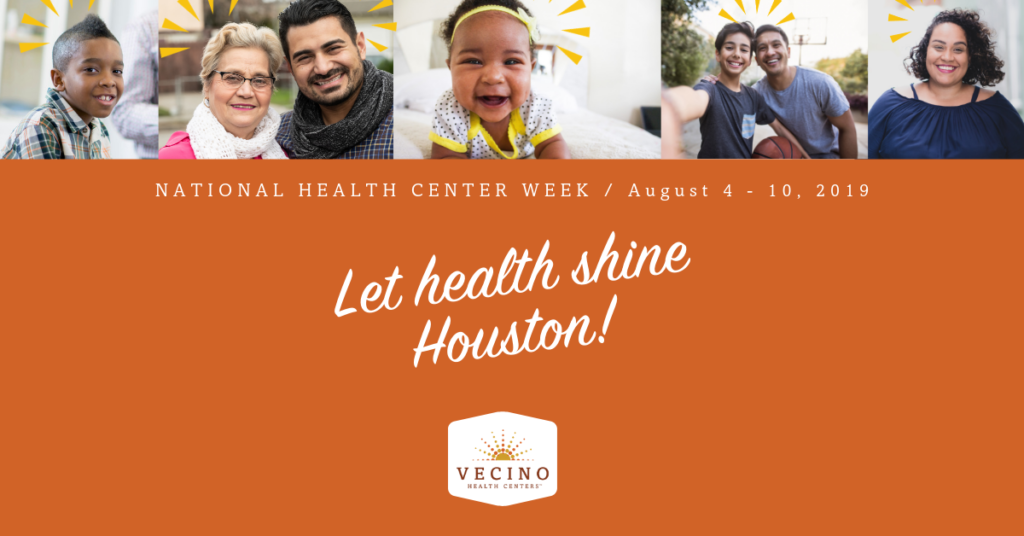 Vecino Health Centers is celebrating National Health Center Week from August 4-10, 2019.
Special gift bags are in store for patients at Vecino's Airline Children's Clinic and Denver Harbor Family Clinic on Wednesday, August 7th in honor of Patient Appreciation Day!
Community Health Centers lower the cost of health care
Vecino is proud to part of a nationwide network of locally-run health centers that serve more than 28 million people nationwide. Community health centers provide care to people who disproportionately suffer from chronic disease and lack access to affordable, quality care. Our approach is community-based and local. Collectively, with other health centers, we generate a nationwide ripple effect. Health centers lower health care costs to the tune of 24 billion a year, reduce chronic diseases, and stimulate local economies.
Vecino provides medical, dental, and counseling services at Denver Harbor Family Clinic and Airline Children's Clinic in Houston. Our counseling services extend beyond the clinic walls through partnerships with local schools. We also collaborate and partner with hospitals, local and state governments, social, health and business organizations to improve health for people who are medically vulnerable.
Successfully helping our patients manage chronic conditions
We are also part of the national movement to successfully help patients manage chronic conditions. Speciality care for diabetes and heart disease are available thanks to partnerships with Houston Methodist and others. Community Health Centers' success in managing chronic disease in medically vulnerable communities has helped reduce health care costs for American taxpayers.
Reducing unnecessary emergency room visits
Highlights of health center accomplishments to which Vecino is contributing include:
Reducing unnecessary hospitalizations and unnecessary visits to the emergency room;
Treating patients for a fraction of the average cost of one emergency room visit;
Serving more than one in six Medicaid beneficiaries for less than two percent of the national Medicaid budget;
Lowering the cost of children's primary care by approximately 35 percent.
---
Photo credit: Baby photo by Shanice McKenzie from nappy.co.
---