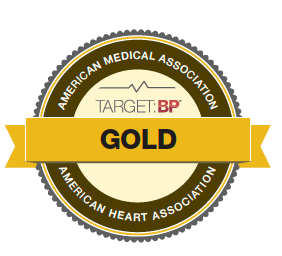 Through the leadership of Nurse Manager Gwen Davis, Vecino achieves Gold Status in the Target BP program, an initiative of the American Heart Association and American Medical Association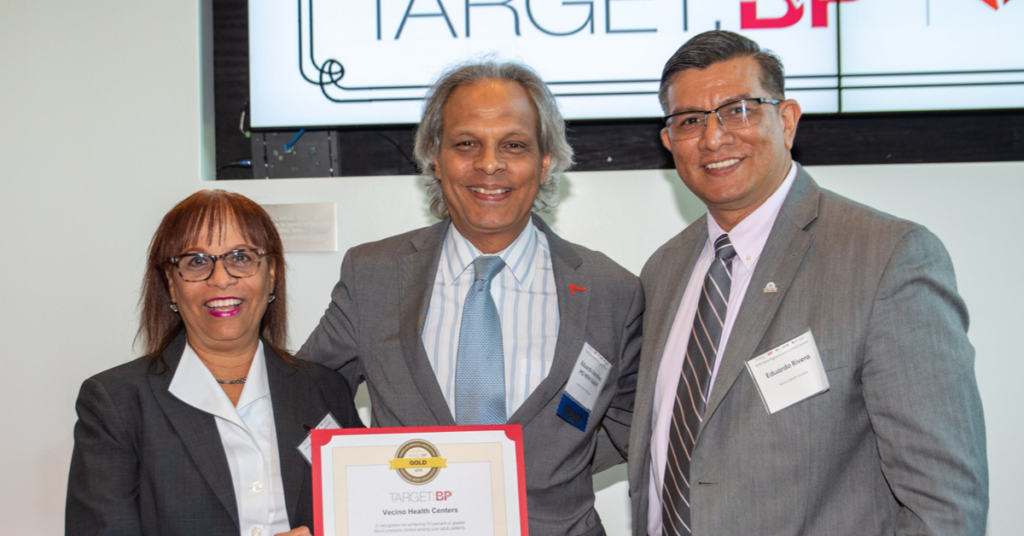 With her background in cardiology and critical care, nurse manager Gwen "Peaches" Davis knows the importance of treating hypertension.
"It is vital that we help patients bring down their blood pressure so they don't lose their eyesight, or have heart attacks or strokes," says Davis.
When Vecino Health Centers enrolled in the Target BP program, Davis volunteered as lead on the project. A national initiative of the American Heart Association (AHA) and the American Medical Association (AMA), Target BP helps health care organizations and care teams improve blood pressure rates.
After several late nights spent combing through data, Davis was pleased to report the numbers: 71% of hypertensive patients at Vecino have controlled blood pressure less than 140/90. With this accomplishment, Vecino achieves Gold Status in the Target BP initiative.
Vecino employs a team approach to managing patient blood pressure
Davis credits Vecino's team approach with the organization's success in managing patient hypertension.
"Reducing blood pressure isn't just about teaching patients. It's about making sure all the doctors, residents, and nursing staff are on the same page," says Davis. "It is a combination of the medical team, the nursing team, and the pharmacists that made this happen."
Vecino's Chief Medical Officer, Dr. Enjoli Benitez, agrees. "Our staff and residents take their commitment to reducing patient hypertension seriously," says Benitez. "I'm proud of what we've accomplished. Our patients' lives depend on it."
A community-oriented solution for a national issue
The Target BP initiative not only recognizes organizations for their hard work, it also arms them with additional tools to raise awareness and reduce the number of Americans who suffer heart attacks and strokes.
Likewise, the team at Vecino recognizes that their efforts to treat hypertension must extend outside the walls of the clinic. During community health fairs, nurses and medical assistants take blood pressures and educate participants about the risks associated with hypertension. Nutrition classes, open to the public, help families learn healthy eating habits that reduce the risk of hypertension and other diseases.
This month, Davis and her staff also received training from the American Heart Association and resources to educate at-risk patients about taking their own blood pressure.
"I hope the teaching we do here will carry on to the house," says Davis. "I want it to resonate when people take their blood pressure at home."