Insperity elevating well child check-ups through support of backpack campaign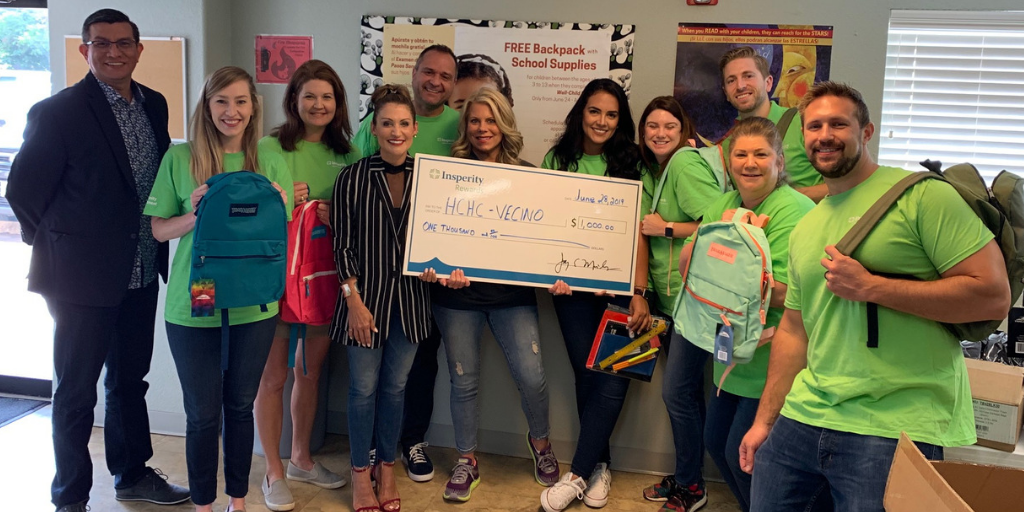 For the third consecutive year, Insperity, a leading human resources and business performance solutions provider, is elevating well child check ups at Vecino's clinics with its direct support of the annual backpack campaign.
A team of Insperity representatives was recently on hand at Vecino to personally deliver a generous financial contribution. They then stayed on to help fill hundreds of backpacks with supplies!
---
Children ages 3-13 receive free backpacks with school supplies as part of their annual Well Check Exams at Vecino's Airline Children's Clinic and Vecino's Denver Harbor Family Clinic from June 24 through August 9, 2019.
---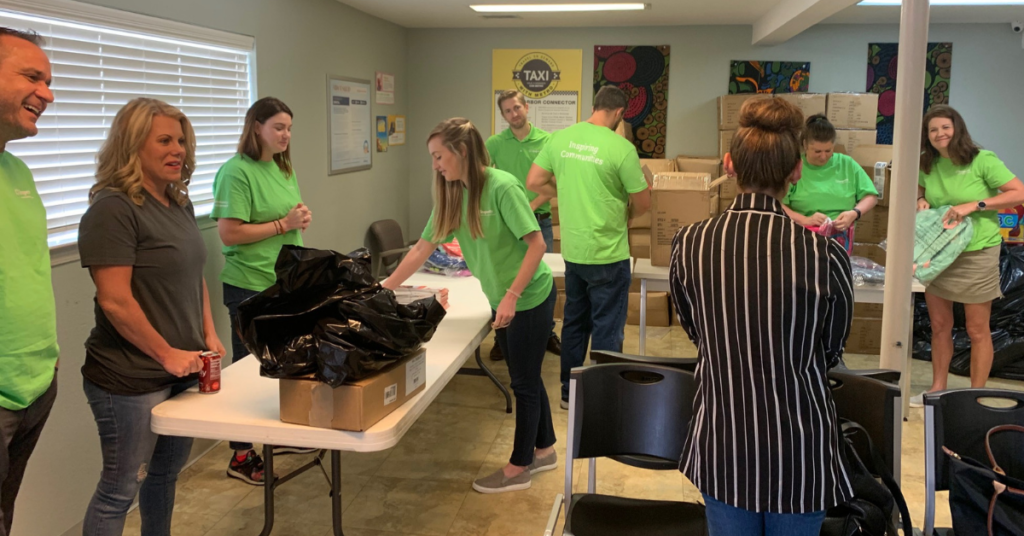 Other funding for this year's backpacks comes from JP Morgan Chase and New York Life Insurance. The program would not be possible without sponsors.
The backpack program not only helps to relieve financial stress on families, but also encourages parents to stay current on their children's Well Check Exams, an important form of preventative care that is covered by Medicaid/CHIP and most other insurance plans.
Well child check ups are important for healthy development
Medical exams are just as important when children are healthy as when they are sick. A well child check, also known as a Well Check or a pediatric physical exam, is an important part of keeping children healthy as they grow and develop. It is the time to update vaccinations and also a chance for parents to check in with their child's doctor about any other concerns they might have.
No question or concern is too small for a well child visit. Some parents even like to bring a list of questions to the appointment to help remember everything. Parents ask all sorts of questions during well child visits, but here are some examples of common questions:
How can I get my child to sleep better?
Is my child overweight?
Are vaccines safe?
My child isn't doing well in school. Is there something wrong?
My child is acting out more than usual at home. Should I worry?
My child doesn't seem to hear well. Can you test for this?
Is my child healthy enough to play sports?
When I compare my child to other kids his age, something just seems "not right". Is he developing normally?
---