Vecino Health Centers has been awarded a 2020 Health Center Quality Leader Award at the Gold Tier by the U.S. Department of Health and Human Services' Health Resources and Services Administration (HRSA).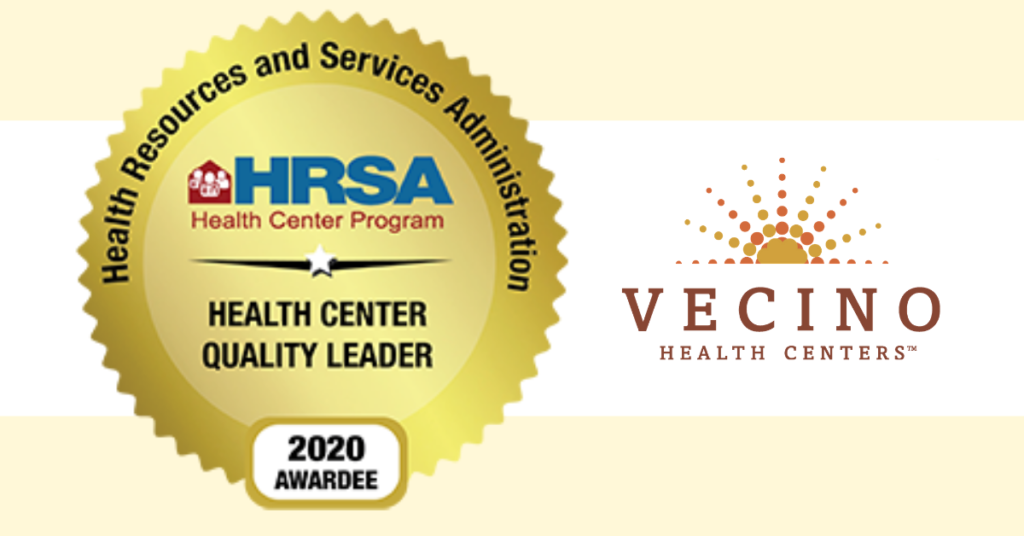 Congratulations to the staff at Vecino's Denver Harbor Family Clinic and Vecino's Airline Children's Clinic on performing in the top 10% of health centers nationwide.
"Gold Tier" status
HRSA's Health Center Quality Leader awards recognize the highest performing health centers nationwide, as well as those health centers that have made significant quality improvements from the previous year. Health Center Quality Leaders achieved the best overall clinical performance among all health centers. Only health centers with the top 10% overall clinical quality measures nationally receive the Gold Tier status.
"We appreciate this recognition, as it really reflects the dedication of the entire Vecino staff at Denver Harbor Family Clinic and Airline Children's Clinic," says Daniel Montez, Chief Executive Officer of Vecino Health Centers. "Everyone at Vecino is working hard every day to improve the health of our patients by providing high quality, cost-effective care."
In top 10% of health centers nationwide
Of the approximately 1,400 community health centers nationwide, Vecino is one of approximately 140 centers receiving the Gold Tier Quality Leader recognition in 2020.
"These quality improvement awards support health centers across the country in delivering care to nearly 30 million people, providing a convenient source of quality care that has grown even more important during the COVID-19 pandemic," said HHS Secretary Alex Azar. "These awards help ensure that all patients who visit a HRSA-funded health center continue to receive the highest quality of care, including access to COVID-19 testing and treatment."
About Vecino Health Centers
Vecino Health Centers is a private nonprofit organization committed to providing quality health care to Houston's working families in the most cost-effective ways possible. Established in 2001, Vecino is a Federally Qualified Health Center operating in two locations in NE Houston: Airline Children's Clinic and Denver Harbor Family Clinic, which is proud to the home of the Houston Methodist Family Medicine Residency Program.