Two Vecino physicians step into newly expanded leadership roles in family medicine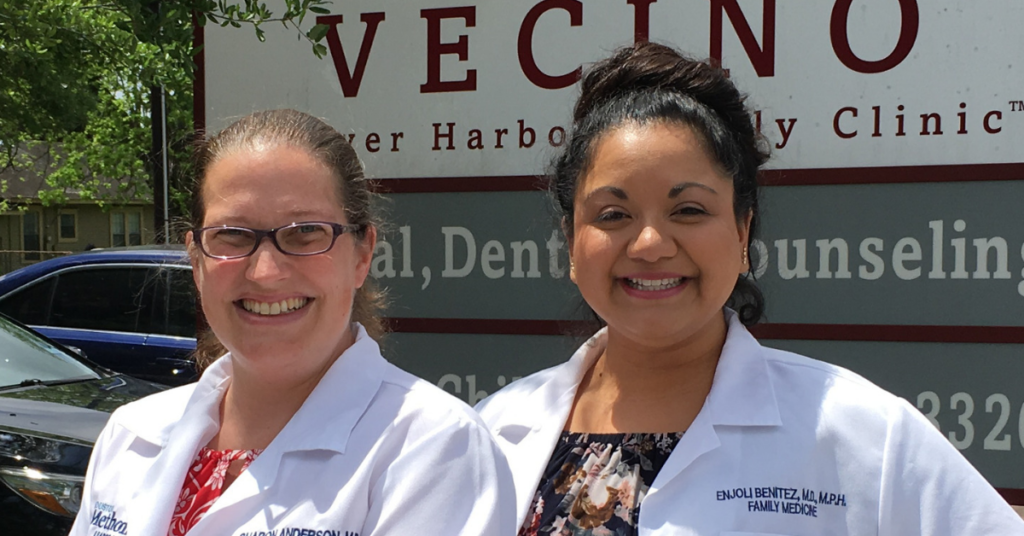 Nationwide, family medicine continues to experience a shortage of physicians. Now, more than ever, cultivating and retaining the talents of the next generation of doctors is a priority for clinics and hospitals.
Drs. Enjoli Benitez and Sharon Anderson are two rising stars in this new generation of doctors. Vecino is pleased to announce that each steps into a newly expanded leadership position following the recent departure of longtime medical director and residency program director Dr. Donald Briscoe. Both doctors are already established and experienced within Vecino Health Centers.
"Vecino has a talented body of physicians and staff, and we are fortunate to be able to cultivate that talent," says Vecino CEO Daniel Montez. "Both Dr. Anderson and Dr. Benitez know our patients and staff well. They will transition naturally into their new roles."
For the past twelve years, Dr. Briscoe expertly served a dual role as both medical director of Vecino Health Centers and program director for Houston Methodist Family Medicine Residency Program, housed at Vecino's Denver Harbor Family Clinic. With Dr. Briscoe's departure, the shoes of a well-respected teacher, mentor and physician who shepherded the organization through more than a decade of significant expansion needed filling. 
Residency program cultivates and retains leaders in the field
Family medicine residency programs, like the Houston Methodist program housed at Vecino's Denver Harbor Clinic, are one of the best ways to build a pipeline of talented doctors. This pipeline helps Vecino remain strong and cultivate talented leaders despite the nationwide shortage of physicians. As a testament to this, both Dr. Anderson and Dr. Benitez come directly from positions within Vecino Health Centers and the Houston Methodist Residency Program. 
Replacing the position of Medical Director, Dr. Enjoli Benitez assumes the role of Chief Medical Officer. For the past six years, Dr. Benitez served as an attending physician at Denver Harbor Family Clinic and a Faculty Physician at The Methodist Hospital Family Medicine Residency Program. In her new role, she is responsible for the quality of medical care within the entire Vecino organization.
Dr. Sharon Anderson assumes the role of Associate Director for the Houston Methodist Family Medicine Residency program. For the past three years, Dr. Anderson serveded a faculty physician for the program.