Dr. Magdalena Brooks joins Vecino Health Centers to lead women's health
Expert in operative obstetrics and women's health expanding prenatal care at Vecino's Denver Harbor Family Clinic
If Dr. Magdalena Brooks had just one message for young women as they step into adulthood, it would be this: "Good care, even before getting pregnant, is really important. Caring for yourself before pregnancy minimizes the risk for complications."
Dr. Brooks, an expert in operative obstetrics and women's health, spent her career helping women prioritize their care before, during, and after childbirth. Fluent in Spanish and English, she is joining Vecino Health Centers to lead Denver Harbor Family Clinic's expansion of its women's health services.
---
To schedule an appointment for Prenatal Services at Vecino's Denver Harbor Family Clinic call 713-674-3326.
---
"As women, we fall through the cracks of the healthcare system," says Dr. Brooks.
Vecino's women's care initiative aims to change this. For Dr. Brooks and Vecino, this includes expanding bilingual family planning and prenatal services, extending care to higher-risk pregnancies, and integrating postpartum services into Vecino's behavioral health program.
"Our women's care initiative is core to Vecino's mission of making quality healthcare accessible to the medically underserved in our community," says Vecino's chief medical officer Dr. Enjoli Benitez. "With her deep knowledge of women's care and her commitment to improving the health of women at all stages of life, Dr. Brooks is an ideal fit for this initiative."
An accomplished family medicine practitioner and obstetrician, Dr. Brooks served most recently as Director of Women's Health and Maternity Care and Faculty Physician for Memorial Family Medicine Residency Program/Memorial Hermann Hospital System. After receiving her Doctor of Medicine from Universidad Central Del Este in the Dominican Republic, she completed a family medicine residency at Pitt County Memorial Hospital and an Operative Obstetrics/Women's Health Fellowship at University of Texas Medical Branch at Brackenridge Hospital. She is a member of American Academy of Family Physicians (AAFP), American Medical Association, National Medical Association, and the Society of Teachers of Family Medicine. Her honors include a 2018 AAFP Fellowship award.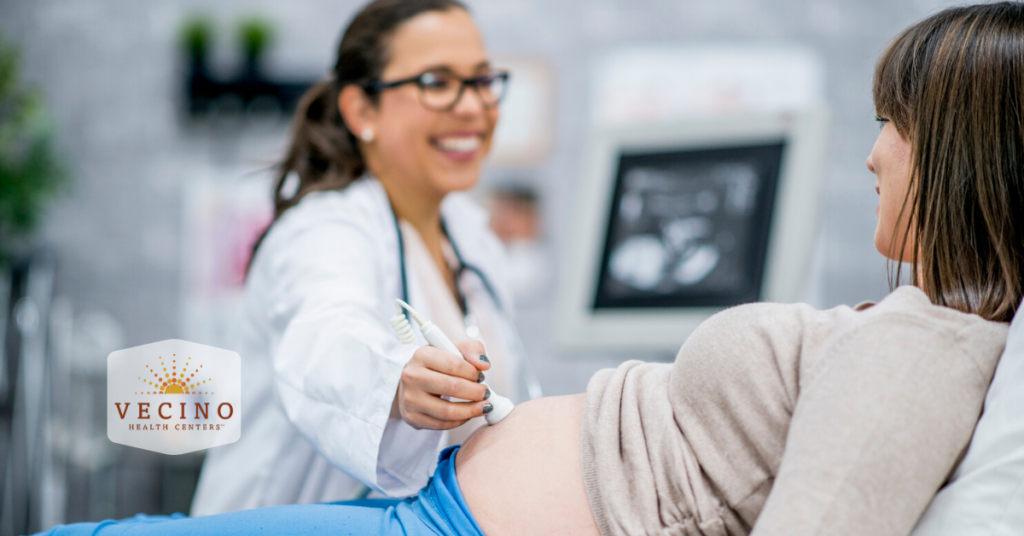 A comprehensive approach to women's care
With new in-house ultrasound services and a partnership with Maternal Fetal Medicine at St. Joseph's Medical Center, Vecino's Denver Harbor Family Clinic now manages women through their entire continuum of pregnancy care. Dr. Brooks is expanding training and mentorship for Houston Methodist residents housed at Vecino's Denver Harbor Family Clinic, allowing the clinic to manage higher-risk pregnancies and offer operative obstetric care, including c-sections.
But as Dr. Brooks points out, to truly serve women, pregnancy care doesn't end when the baby is born.
"We lose a lot of people to the follow ups," says Dr. Brooks. "And there's a lot of postpartum depression that goes undiagnosed for years and years."
Through her leadership, Vecino will be providing patients with continuity of care from early reproductive services and family planning through postpartum care. Vecino's robust, bilingual behavioral health program works hard to reach out to patients and break down stigmas about seeking mental health treatment. The program is poised to provide this same level of wraparound services for women facing postpartum depression and other postpartum concerns.
Many of Vecino's patients trust the clinic and its staff as their medical home. By moving critical women's health services in-house, Dr. Brooks and her colleagues hope to prevent women from falling through the cracks at a time in their lives when they most need quality care.
Women's health and prenatal services at Vecino's Denver Harbor Family Clinic
Vecino's Denver Harbor Clinic is now accepting new and existing patients for family planning, pregnancy, and postpartum care. To schedule an appointment with Vecino's Prenatal Services call 713-674-3326.
---